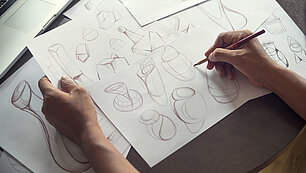 Design
$850
---
Timeframe: 2 weeks for multiple 3D design options.
---
Our in-house designers will work on your bespoke bottle design and its unique matching closure/cork.
---
If you are feeling inspired, send us images of what you have in mind.
---
We'll then give you a price estimate for the mass production of your bottle.
---
Our designers can also work on gift boxes, sales/shipping cartons that match your branding.
---
If it's a label you need, we can take care of that too. Paper or silk screen...the sky is the limit.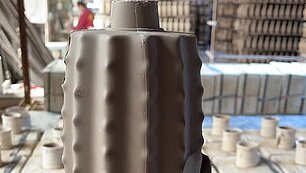 Mold
From $650
---
Timeframe: 45 days for mold samples to be created and sent to you for approval.
---
Once your design is determined our artists take over.
---
The prototype is finalized and will serve as the mold for the production of your bottles.
---
Exact cost of each bottle unit can now be determined.
---
Bespoke bottles require up to 16 molds for mass production.
---
Molds are replaced at no extra cost to the client following wear & tear.
---
Prototypes and molds become the property (copyright) of your company.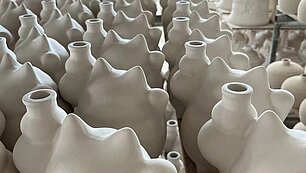 Minimum order quantity & Mass production cost
$3.50 - $14.00 per unit for 5,000-bottle MOQ
---
Timeframe: 60 days for mass production. Dependent on complexity of hand-painting options.
---
In addition to low mold costs, Rockwood Ceramics provides the advantage of a low MOQ (5,000 bottles).
---
This allows clients to launch a new brand, sister-product, or even create special editions with very low financial risk.
---
Due to ceramic bottles having a lot of hand-painted details and bespoke finishings, they take longer to produce than glass bottles. This leads to slightly higher unit prices for ceramic bottles than for glass.
Transport & delivery times
$3,000 - $5,000
Shipping of 40'HQ container from China to any destination worldwide.
---
Delivery timeframe: 30–40 days depending on destination.
---
If you need a 10,000 bottle container delivered to you every 2 weeks, we can make it happen!
---
It is recommended to fill a container in order to save on repeat transportation costs. We will always tell you how many bottles fit in 1 container before you place your Mass Production order.
---
A 40'HQ container fits 9,000 to 20,000 bottles. This depends on the size of your bottle and its shape/packaging complexity.
Low MOQs, cost efficiency, state-of-the-art manufacturing facilities, high-caliber porcelain, and versatile bottle designs. These are just some of the reasons why Rockwood Ceramics can't wait to get you on board for your made-to-measure ceramic bottle projects!