Glass & ceramic bottle transport: 85% drop in freight rates from Shanghai China to West Coast USA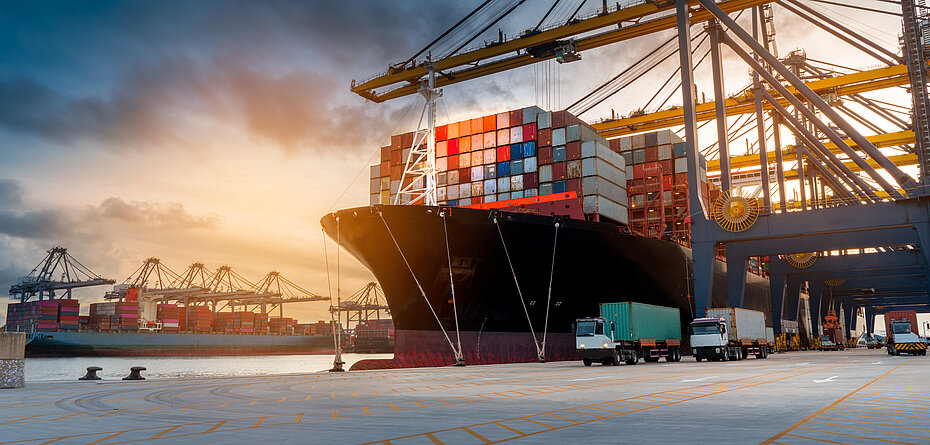 Did you know that around 90% of global trade is transported by sea? This is around 11 billion tons worth of goods per year. With such a dependency on maritime trade, it comes as no surprise that the freight rate crisis had such a severe impact on the global economy.
As the pandemic struck in 2020, the freight market began to face unprecedented turmoil, sending prices soaring to over 10 times the habitual rates. The effects crippled dozens of industries, bringing the freight supply chain to its knees. Cost pressures, disruptions, and delays lead to a decrease in industrial production and an increase in consumer prices. All continents which rely heavily on Chinese manufacturing, the Americas and Europe included, were heavily affected.
Rockwood & Hines Glass Group, China's largest foreign-owned manufacturer of bespoke glass and ceramic bottles, felt the impact. As did our clients. We saw 40ft container rates (Shanghai to West Coast USA) spike from 2,500 USD in June 2020 to 20,000 USD by September 2021.
The good news?
Pricing for shipping containers overseas from China has finally begun to decline, substantially. So much so that we can see the pre-pandemic freight rates on the not-so-distant horizon. Rockwood clients are seizing this opportunity to begin placing large orders once again. According to the Freightos Baltic Index, the Shanghai to West Coast USA shipping route (the most frequented route for Rockwood's glass and ceramic bottles), experienced the following rate fluctuations since July 2020:
June 2020 at 2 200 USD per 40ft container
September 2021 at 20 000 USD per 40ft container
June 2022 at 9 500 USD per 40ft container
August 2022 at 6 000 USD per 40ft container
September 2022 at 2 978 USD per 40ft container
The below Freightos chart shows a bird's eye view of global freight cost trends since the pandemic-led supply chain disruptions began.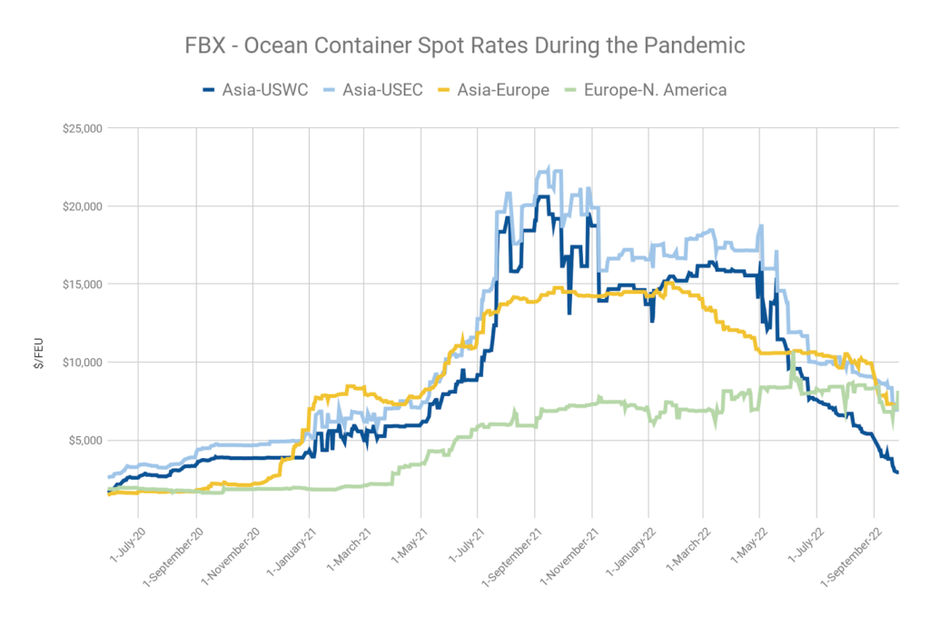 What about increased energy prices and the glass supply crisis?
Since June 2022, a surge in material costs, supply chain disruptions, increased energy prices, and international economic pressures, have led to a 15%-40% rise in glass production costs throughout Europe and the USA. The war in Ukraine is a contributing factor to the dire effect on the glass industry, as gas and energy prices have spiked as a result of the conflict. Price increases and surcharges are being added to client orders at a rate that is already having a negative impact on order quantities and future forecasts. But this is not the case for Rockwood clients.
Despite the impact of the current crisis being felt across the globe, China is consistently ramping up production to meet rising global demands that otherwise, risk remaining unfulfilled. As a result, Rockwood clients continue to benefit from our:
Efficient turnaround times with unmatched speed-to-market from bottle conception to production and delivery.
Diligent European standards and leadership coupled with:
Lower Chinese production costs.
Low minimum order quantities (5 000 units for ceramic bottles and 20 000 units for glass bottles).
Molds costing less than one-tenth of the prices found in Europe and the USA.
Established export routes to 24 countries.
Flexibility and reactivity to our clients' requests.
Premium quality and cost-efficiency are what make Rockwood a rival to competitors based in Europe, Mexico, and North America.
If you are interested in discovering how we can collaborate on the design and production of your high-end, bespoke ceramic or glass bottles, feel free to contact us.